A perspective on some of The Final Four designs – Basketball Shoes, Commercials, ESPN TC App, Hair
HatchOne got deep into March Madness this year. It makes a huge difference on fan intensity when you've filled out a bracket. Without one, you're curious about the upsets. With one, you're fanatically cheering for your picks whether they deserve to win or not.
As product designers, we were naturally drawn to the fun design details in this year's tournament's game coverage, fan empowerment, and individual contributors. We decided to do a little review of four of our favorite design aspects of March Madness 2022: basketball shoes, commercials, the ESPN TC App, and hair.
BASKETBALL SHOES
This was one of the first design details we noticed. Players are wearing individual, personalized shoes and not necessarily branded team footwear. Since the footwear industry revolutionized marketing and sales of footwear for every sport, basketball has been a highlight from the 1980s Air Jordans (which are now collector items) to more recent design and colors to support passions and social causes. And with the new NCAA rules, for the first time in history, players can sign endorsement deals to capitalize on their own popularity. Expect to see individual expression grow on the court in the future.
Below are a few worth mentioning including the Air Jordan 6 designed in the "UNC" colorway for March Madness 2022.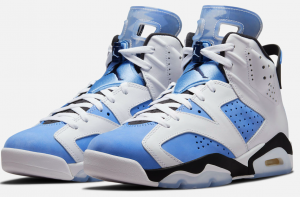 COMMERCIALS
March Madness commercials are competing with the Super Bowl for content (and quite possibly cost). They're creative, star-studded, and worth watching more than once. Two of our favorites are from AT&T and Capital One credit cards. They incorporate March Madness puns to create innovative, sales-worthy commercials. These two always make us smile.
ESPN TC App
The ESPN TC app knocked it out of the park this year. Not only is it simple to use, but it's so easy and fun that even non-sports fans got in on the action. The group engagement and clear graphics for scores, game tracking, and bracket points for wins encourage constant app engagement and check-ins. The UI flow and page logic with superb graphics creates instant data access at your fingertips. Making your team selections was so easy that in hindsight you wonder why you didn't do more research before choosing. Next year!
HAIR
Now more than ever, hair is a statement. With cultural shifts and next-level appreciation for multicultural style comes creative functional designs. March Madness has more than hoops – it has flair. And hair 'style' everywhere. Not only is a hairstyle a way to express individual personalities, but they are fully functional, some in fast and furious upsets. Below are a few of our favorites.
Tyger Campbell has not had a haircut since fifth grade. He says it's his swag and people like it or hate it. We see these free-form locks as a physical representation of Campbell's incredible, energetic presence on the court.
Drew Timme from No. 1 seed Gonzaga showed up at the NCAA tournament with a handlebar mustache my dad would have been envious of. He's been known to stroke his 'stache after nasty dunks.
Mayer has the *perfect* mullet. So perfect, his headband fits effortlessly under the bangs and over the back length. When he is sprinting around the court, the layers flow like he's flying down the highway with the top down and the music cranked. Nostalgia on steroids.
All of these NCAA Final Four design categories have increased our enjoyment of the tournament beyond the games themselves.  We recommend a deep dive on all of them. Enjoy the Sweet Sixteen.
Go Cyclones!